This article, Demonizer, is the creative property of GokaiWhite.
Super Evil Empire Demonizer


超悪帝国 デモナイザー
Chō Aku Teikoku Demonaizā

Name
Super Evil Empire Demonizer


超悪帝国 デモナイザー
Chō Aku Teikoku Demonaizā

Members
Majin Tyrant(Leader),
8 Generals,
Millions of robot demons
Role
Main Villains
Story
Superhero Keyblade Wars
"Darkness is order." — The empire's creed
The Super Evil Empire Demonizer (デモナイザー Demonaizā (SEED for short, not to be confused with the mercenary force based in Balamb Garden)) is an insanely powerful space terrorist empire and the main villainous organization in Superhero Keyblade Wars. Sometime after the fall of Master Xehanort, Demonizer launched a full scale assault on the universe, conquering many locations, including Destiny Islands, and destroying any threat to their goals, including S.H.I.E.L.D.. The Emperor planned and instigated the Superhero Keyblade War in order to acquire the "Most Incredible Power in the Universe" and forever rule the entire universe with an iron fist. Also, the Demonizers falsely present themselves as a force of ultimate law and order far beyond the masses' reproach, seeking a swift end to the endless battle between light and darkness at any cost, while still relentlessly and vehemently slandering the forces of good and committing the worst, most evil acts imaginable purely for evil's sake.
Many of their members include some of the most notorious enemies of the Capcom, Marvel, and Toei heroes, under the leadership of the Eight Generals who, in turn, answer to their master, the Majin Tyrant (魔神タイアルント Majin Tairanto, Devil God Tyrant).
Hierarchy / Members
Edit
Majin Tyrant (real name unknown at this point)
The Eight Generals;
Veteran villains

Marvel

Crimson Dynamo
Footsoldiers

Ultronites
Chitauri
Doombots

Capcom

Berial
Valgas
Eregion

Sentai

Lethal Doggler
Vulgyre
Geilton's Lingering Will
Footsoldiers

Bara Soldiers
Zennits
Anaroids
Batsuroids
Igaroids
Ugatz
Gormin
Bugglers

Evil Megazords

Veronica
Norishiron 12
Death Neziros
Great Warz
Great Insarn

DeathTroopers (デス・トルーパー)- basic humanoid grunts. Every mass produced model has it's laser core located inside of a different body part, making an army of them even harder to destroy. They become "MegaDeathTroopers" when enlarged to fight the heroes' giant robots, but no more than ten can be grown giant at a time.

Kikaima(キカイマ) / Kikaijuu(キカイジュ)- also called Mecha Demons / Beast Machines. Most of them used to be Heartless, Nobodies, Unversed, and other creatures of evil before the emperor roboticized them, making them stronger and deadlier than before.
Heartless
Kikaima / Kikaijuu types
Edit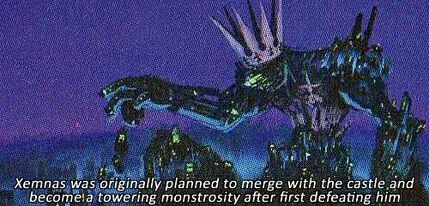 GalvaZords
Edit
Musical Themes
Edit
Although no original leitmotif has yet been composed for the empire has a whole, three of JAM Project's songs are the basis for special battle themes made for it's leaders: