Okay, now we need to make a new name for ourselves.

This article is uncategorized or poorly categorized.

You can improve this page by categorizing it accordingly.
"My sister has died... So did I. But like Ayano I was reincarnated to do Freaking Supernatural stuff.."
—Xin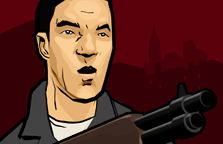 Xin is the Capo or Sub Leader of the Saint's Row and like Ayano has Died in a past life and reincarnated.
He is also the Main Character of the Chapter 1-5 Arc. the other 6-10 is Ayano Katagiri.
Personality
Edit
Xin is a very Impatient, Arrogant and Lazy. Which is why Ayano Katagiri commands him multiple times much to his anger at her. Xin is an Grand Theft Auto type Characther meaning that he has no "Supernatural" Abilities nor Fighting Style.
Apperance
Edit
Xin has his Exact apperance in GTA: Chinatown Wars. With a Gray Suit and Black Pants.
The Final Remnant
Edit
Aftermath of the Holy Blade Order
Edit
Xin is commanded by Ayano Katagiri to take December Haruhi to the Saint's Row.
After this he is ambushed by members of the Angels of Death which leads Ayano commanding him to kill their
Sub Leader Albert Lawson.
The Son of The Old Boss
Edit
Loading...
The One Behind The Order
Edit
Xin is commanded by Ayano Katagiri to kill Lunar because of being the "traitor" who is the reincarnated Aeon Lunar.
He gunned down Aeon while praying at a church to confess his sins.
Ayano Recreate the World
Edit
To be continued...
Xin is a Characther from Grand Theft Auto: Chinatown Wars
He does die in the mission "Xin of the father" which is commonly pronounced as "Sin of the father" a reference to killing Aeon Lunar at a Church.
Xin's only apperance is the Final Remnant unlike Ayano who appears in multiple Games.
Along with Malevolence he has not battle style nor abilities due to his status being a "Grand Theft Auto Character".
Ad blocker interference detected!
Wikia is a free-to-use site that makes money from advertising. We have a modified experience for viewers using ad blockers

Wikia is not accessible if you've made further modifications. Remove the custom ad blocker rule(s) and the page will load as expected.