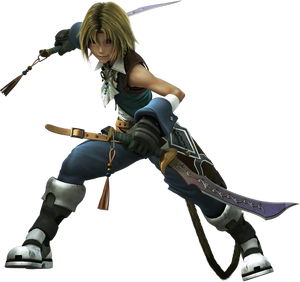 Zidane Tribal is a Thief of the City Lindblum of the world "Mist Continent", he stars first in Kingdom Hearts: Another Path and is a returning character in the follow up series: Another Story, he seems to consider his elder brother his purpose to exist and so seeks after him.
Biography
Edit
Equipment, Powers and Abilities
Edit
He like the Mist Continent and all the Characters on it, star originally from Final Fantasy 9.
He and his older brother appear star in Dissidia: Final Fantasy, as Rivals.
He is one of the few Characters, whom for some reason, have no relation to the world they appear on.
Ad blocker interference detected!
Wikia is a free-to-use site that makes money from advertising. We have a modified experience for viewers using ad blockers

Wikia is not accessible if you've made further modifications. Remove the custom ad blocker rule(s) and the page will load as expected.